Auto Protection Program
Protect your car and your finances through all of life's challenges with our comprehensive program.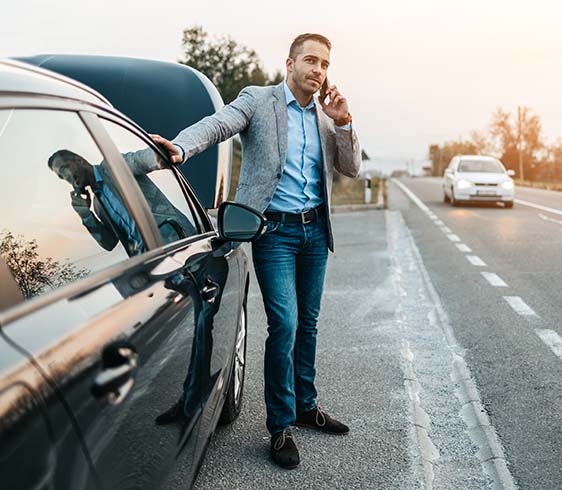 Auto Protection Services
Get the peace of mind you need while you keep rolling. We're here for you at every mile marker, protecting you, your investment and your family.
Get loan protection to ease your financial burden in case of unexpected life events
Make sure you have coverage needed to make expensive repairs

GAP provides peace of mind by covering loan payments*
Vehicle Service Contract (VSC) include 24/7 Roadside Protection, Trip Interruption and Rental Vehicle Assistance
Complete Vehicle Protection (CVP)* for greater coverage for your investment
Most coverages cost less than what dealers charge
Questions? We can help.

Monday - Friday 9AM - 6PM
and Saturday 10AM - 2PM CT

Talk to an Account Specialist
972-705-4840
Exclusive Benefits Include

Guaranteed Asset Protection (GAP)
Get help paying off your loan in the event of a total loss or theft. GAP can cover the difference between your insurance payout and the amount you owe on your loan.

Vehicle Service Contract (VSC)
For a great price and low deductible, we'll cover your vehicle (up to 15 years old) for whatever happens after the manufacturers' warranty expires. Get 24/7 Roadside Protection, Trip Interruption and Rental Vehicle Assistance.

Payment Protection
This affordable policy pauses or covers your loan payments if you're disabled by illness or injury, get laid off or pass away. It's invaluable peace of mind for you and your family.

Complete Vehicle Protection
Greater coverage for your investment
Tire, Wheel & Rim Protection
Paintless Dent Repair
Windshield Protection
You May Also Be Interested In
General Auto FAQs
Do you need GAP if you have full coverage?
You need Gap Protection if there is a gap between what you owe and what the car is worth.
Yes, GAP is a good option for the following types of drivers: Drivers who owe more on their car then the car is worth. If you are currently making car loan payments, be sure to calculate the loan balance and weigh it against your car's current cash value. You should strongly consider GAP Protection.
What is a Vehicle Service Contract (VSC)
Vehicle service contract can cover the cost of unexpected auto repairs with minimal upfront costs. With CUTX you have the option to pay for your vehicle service contract up front or add into your monthly payments.
How do vehicle service contracts work?
Sometimes referred to as an extended warranty plan (though not officially by legal definition), a vehicle service contract is a paid plan that helps cover the costs of any repairs needed once the limited warranty has expired. As the car ages, the likelihood of it needing repairs rise.
Does tire, wheel & rim protection cover cosmetic damage?
Tire, Wheel and Rim protection does not cover the repair of cosmetic damage for tires, wheels, and rims.
Can I just buy a Complete Vehicle Protection as a standalone product?
Not as this time. They are only sold as a package of the Tire, Wheel & Rim, Paint-less Dent Repair and Windshield.
Why CUTX?
Great folks to work with and great rates! We saved a ton on our auto loans! Thanks, CUTX!

I've been a member for almost 30 years, I can't imagine banking anywhere else. You're more than another account at CUTX, you're a member, you're a family.

The stuff, loan team and customer service were very helpful throughout my car loan process. Credit Union of Texas was able to offer me the best rate available for my vehicle. I would highly recommended CUTX to all of my friends and family.

We're Here To Help
Visit your local branch
We have several locations in DFW and East Texas. Come see us!
*Guaranteed Asset Protection (GAP) can be purchased when originating or refinancing an auto loan with Credit Union of Texas (CUTX). CUTX Vehicle Service Contracts (VSC) can be added if the vehicle is under a valid manufacturer's warranty and is through CUTX. Auto Protection Program offered through our third-party affiliate. Additional terms and conditions may apply. CVP (Complete Vehicle Protection) can be purchased when originating or refinancing an Auto loan with Credit Union of Texas. Certain restrictions and limitations may apply. Not all vehicles are eligible for coverage. Membership required