Credit Union of Texas
Explore Credit Union of Texas Products and Services
CUTX Awards
We're honored to be recognized by an organization that is synonymous with trust.

Member Benefits
Banking with us means you'll be able to enjoy simple banking your way, delivered with plenty of added bonuses.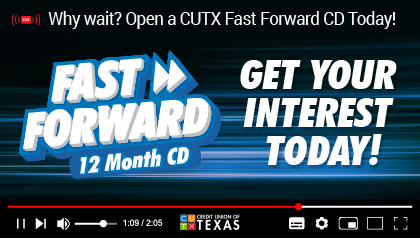 Get Your CD Interest Up Front!
Instead of waiting to enjoy your investment, fast forward to the good part and get your return as soon as you open your account. With a minimum deposit of $1,000, get 5.00% APY (Annual Percentage Yield) for 12 months1
*The Annual Percentage Yields (APYs) are accurate as of  July 1, 2023 and are subject to change.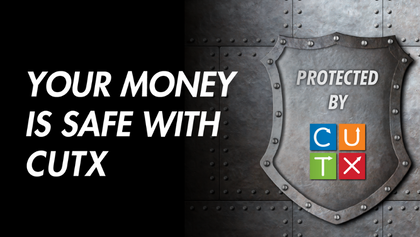 Understanding Deposit Insurance – and Strategies You Can Take To Increase Your Coverage with CUTX
Your money is safe with CUTX. For large deposit holders, here are some tips on how you can maintain coverage for your funds over the standard maximum of $250,000. 
Resources to explore
As a proud Texan credit union, CUTX is always delivering exceptional financial services while investing in you and your community through financial education programs, service initiatives, donations and more.
I want to...
Buy or refinance
a home
Financing your dream home is within reach. Or maybe you just need to refinance to a better mortgage that works for you.
Watch & Learn
Make more informed decisions with your money. Our Financial Education Articles and Calculators can be insightful for any situation.
Enroll in
Online Banking
Banking has never been so convenient. Enroll in Online Banking to get the tools you need for secure account management.