Auto Refinance Loans
Same car. Better loan. Take advantage of low rates.
Apply for car loan refinancing today!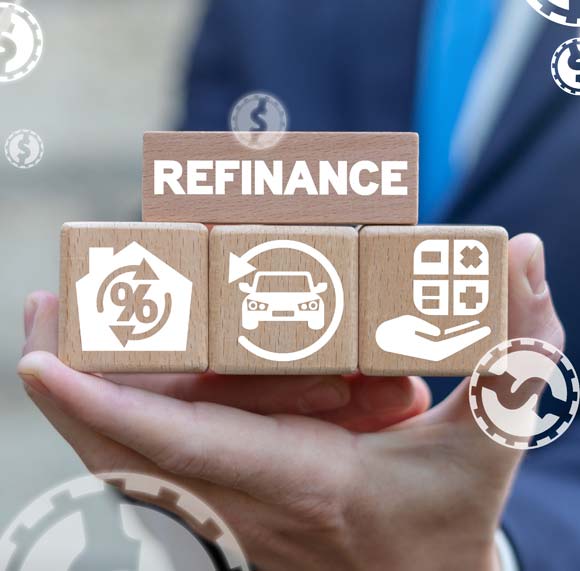 The Best Rates For Auto Refinance
We can green-light some big savings for you. It's a great way to free up money so you can address other priorities in life. 

Our team can help you lower your interest rate
Refinance with us and wait up to 60 days1 before making your first payment
Free up money every month to address other priorities in life
Fast, easy, secure online application with an immediate decision
We work to help you save money when you refinance your auto
Schedule payments quickly through Online and Mobile Banking
Questions? We can help.

Monday - Friday 9AM - 6PM
and Saturday 10AM - 2PM CT

Talk to a Texas Auto Refinance Specialist
972-705-4840

Refinance Your Car Loan & Save
If you didn't get your auto loan from CUTX, we won't hold it against you. However, there's a good chance you're paying too much. We're experts at finding ways to help you save money with a lower rate and without hidden fees that other places try to sneak in. Fill out this quick form and we'll call you to walk through your current loan.
Vehicle Loan Refinancing Benefits Include

Low Rates
We help you make your money go further with rates that leave you extra money to detail your ride, or do anything else.

Instant Decision
It's a lightning-fast process that takes about three minutes. The faster you fill out the application, the quicker you get a response.

60 Days No Payments
Refinance with us and wait 60 days1 before making your first payment. That frees up money for other uses.

Flexible Options
We'll work with you to find the car loan refinance terms that fit your needs and save you money.

Auto Protection Program*
When you finance through us, you can also choose to protect your vehicle and finances with Guaranteed Asset Protection, Vehicle Service Contracts,  Complete Vehicle Protection and Payment Protection.

Great Experience
We're in this with you. The more we help you save, the better you'll feel. Turn to someone you trust who wants to see you succeed.
You May Also Be Interested In
General Auto Loan Refinance FAQs
Why refinance my car loan?
There are many motivations to refinance your auto loan. Your current loan might have a higher rate than you like, or a lot of extra costs you didn't know you agreed to. Maybe your credit score has improved and you'll qualify for a lower rate, or interest rates in general might be lower than what they were when you closed on your loan. Whatever your reason might be, refinancing often means you can lower your monthly payments.
This all depends on various factors, including whether you qualify for a lower interest rate than you currently have, whether you have extra charges on your current loan that you wish to do away with, whether interest rates have risen or dropped since you got your loan.
When does refinancing make the most sense?
Here are a few guidelines for that:
You still have several years on your current loan.
You don't owe more than the car is worth.
Your car is less than seven years old and/or has under 75,000 miles.
What do I need to provide to the lender?
To keep things running smoothly, make sure you provide this information.
Your current lienholder information found in monthly loan statements, purchase paperwork, or loan coupon book
Proof of insurance
Approximate vehicle mileage rounded to the nearest 100 miles
Vehicle VIN, usually found on your insurance card or vehicle purchase paperwork
Current Driver's License
How long does the refinancing process take?
The approval process for a refinance can take as little as a few minutes. After your new loan is signed, you can have up to 60 days with no payments before making the first payment on your loan. Keep in mind, interest begins the day you close on your loan.
Where do I send proof of insurance?
You can click here and provide the declaration page provided by your insurance company that shows Credit Union of Texas listed as lienholder. Keep in mind, a copy of your insurance card is not acceptable for this documentation.
If you'd rather send us your proof of insurance by mail or fax, please use this address or number:
CUTX
PO Box 690588
San Antonio, TX 78269
Fax: 866-830-7922
(This address is for providing proof of insurance only. Please do not send your loan payments to this address.)
If you have other questions, call us at 866-382-0069.
Why CUTX?
Great folks to work with and great rates! We saved a ton on our auto loans! Thanks, CUTX!

I simply love this credit union location. My family has gotten several auto loans and personal loans there. I have been a member for over 30 years and my children have accounts also.

Great services, excellent staff.

We're Here To Help
Visit your local branch
We have several locations in DFW and East Texas. Come see us!
Ready to apply?
Apply online now or get started if you need assistance with your application.

* Guaranteed Asset Protection (GAP) can be purchased when originating or refinancing an auto loan with Credit Union of Texas (CUTX). CUTX Vehicle Service Contracts (VSC) can be added if the vehicle is under a valid manufacturer's warranty and is financed through CUTX. Auto Protection Program offered through our third-party affiliate. Additional terms and conditions may apply.
1 First payment due date may be set up to 60 days from contract date on auto purchases or refinances. Interest will accrue during the deferment period.