Credit Union of Texas Partners with Little Elm Police Department on Donation for New Drone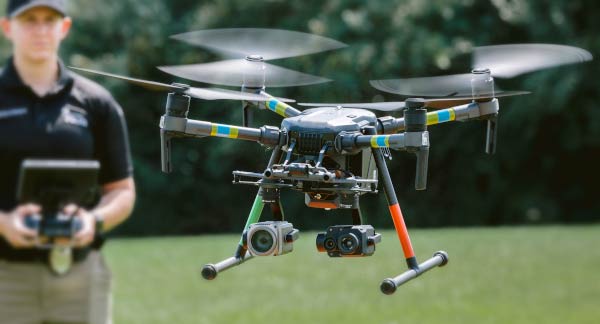 Modern technology allows first responders to serve community more safely, effectively
Key Takeaways
CUTX donates police drone to Little Elm Police Department

The drone supports a variety of key law enforcement and community protection tasks
---
The new drone will help the Little Elm Police Department serve more effectively and will help to keep officers safe.
ALLEN, Texas – May 10, 2021 – As part of its ongoing commitment to the communities it serves, Credit Union of Texas (CUTX) has donated a drone to the Little Elm Police Department.  The new drone that supports a variety of key law enforcement and community protection tasks.  Its features include the most modern technology available, including Forward Looking Infrared (FLIR) sensors to aid in nighttime operations and higher-quality zoom lenses.
In addition to assisting with the apprehension of suspects, the drone also plays a vital role in the recovery of missing persons, helps determine officer resource allocation during town events, aids in the reconstruction of accident scenes, provides real-time images of fire and rescue events, and supports SWAT and narcotics operations in a way that allows officers to remain at a safe distance.
"As a longtime member of the community, we value the hard work and contributions of Little Elm's first responders," said CUTX Chief Engagement Officer Jennifer Olvera. "Our success is reflected in the impact of our contributions on our partner communities, and we believe that this donation will make a positive difference for everyone in Little Elm."
The effort builds on CUTX's long-standing partnership with the Town of Little Elm and its police and fire departments. In addition to the drone donation, CUTX has provided items for fundraisers benefiting both departments and is also a Lieutenant level partner of the Little Elm Honor Park, a community-gathering place dedicated to honoring first responders.
In preparation for the drone's addition to the department, Little Elm police officers received multiple training sessions that included controls practice with a training drone, a 24-hour class to master the drone's key maneuvers as well as software instruction that helps officers analyze the drone's in-air work. As a final step, each officer also conducted an in-flight test to ensure proficiency in handling the drone.
"Our partnership with Credit Union of Texas and their donation to our department ensures that we can provide best-in-class protection and serve our community more effectively," said Lieutenant Maxie of the Little Elm Police Department. "Our new drone allows Little Elm to maintain our top priority of providing a safe community for our citizens."
About CUTX
For almost 100 years, Credit Union of Texas has provided financial services to members throughout North Texas. Living out its vision to deliver an unexpected experience, CUTX has grown to over $1.7 billion in assets. Membership is open to anyone who lives, works or worships, or is related to a member in Dallas, Denton, Collin, Rockwall or Upshur and its surrounding counties. In 2021, CUTX was recognized with the Communities Foundation of Texas "Be in Good Company" Seal of Excellence, voted the Best Credit Union in DFW by the readers of The Dallas Morning News and named the winner of the Torch Awards for Ethics, Better Business Bureau Serving North Central Texas. For more information about CUTX, visit www.cutx.org.
About Children's Advocacy Center of Collin County
Children's Advocacy Center of Collin County is a nationally recognized nonprofit organization providing hope to children and families victimized by child abuse. Our proven approach brings experts together under one roof to ensure safety and justice for children. We are the only agency in our community offering services critical to healing, free for life.
You May Also Be Interested In