Credit Union of Texas' Entrepreneurial Spirit Shines in Effort to Give Back
Published April 13th, 2021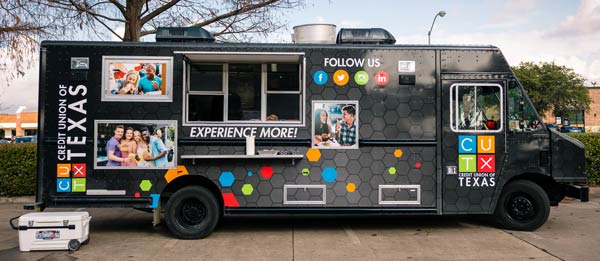 A new, branded food truck will enable CUTX to further support charitable causes
Key Takeaways
CUTX announces the launch of a branded food truck called Community Grill

The food truck will provide for educators, first responders, veterans, several local charities, and the suburban homeless population.
---
The new food truck will help CUTX further engage with the community.
ALLEN, Texas – April 13, 2021 – Credit Union of Texas (CUTX) continues its ongoing commitment to the communities it serves with the launch of a branded food truck called Community Grill that will be used for local events. Expected to kick off next month, the food truck idea was born from CUTX's entrepreneurial spirit and dedication to community service. It will be used to provide for educators, first responders, veterans, and several local charities, feed the suburban homeless population and further engage at community events.
Community Grill will make its debut at three upcoming events in support of Streetside Showers, a local nonprofit that provides mobile hot showers and personal hygiene care to the homeless population and others in need around the DFW Metroplex. The events will be held on Saturday, May 8, Saturday, May 15 and Saturday, May 22 at Hope Fellowship, 1702 W. University Drive, in McKinney from 9 a.m. to 2 p.m.
"Our board of directors inspires CUTX to be creative in finding ways to serve our communities beyond general sponsorships and campaigns," said Eric Pointer, Chief Executive Officer at CUTX. "The Community Grill allows us to support various organizations and those in need with a one-of-a-kind experience.  Our Community Engagement staff is excited to be part of this unique concept and is ready to serve!"
The CUTX Community Engagement team, who have recently received their required food safety certifications, will serve as cooks, cashiers and servers for the food truck. CUTX will partner with area school district culinary programs to develop a rotating menu of community favorites.
About CUTX
For almost 100 years, Credit Union of Texas has provided financial services to members throughout North Texas. Living out its vision to deliver an unexpected experience, CUTX has grown to over $1.7 billion in assets. Membership is open to anyone who lives, works or worships, or is related to a member in Dallas, Denton, Collin, Rockwall or Upshur and its surrounding counties. In 2021, CUTX was recognized with the Communities Foundation of Texas "Be in Good Company" Seal of Excellence, voted the Best Credit Union in DFW by the readers of The Dallas Morning News and named the winner of the Torch Awards for Ethics, Better Business Bureau Serving North Central Texas. For more information about CUTX, visit www.cutx.org.
About Children's Advocacy Center of Collin County
Children's Advocacy Center of Collin County is a nationally recognized nonprofit organization providing hope to children and families victimized by child abuse. Our proven approach brings experts together under one roof to ensure safety and justice for children. We are the only agency in our community offering services critical to healing, free for life.
You May Also Be Interested In