Credit Union of Texas Awards 2021 William H. Cotton Scholarship to Dallas Independent School District (DISD) Elementary School Principal and Former DISD Graduate
Published August 4th, 2021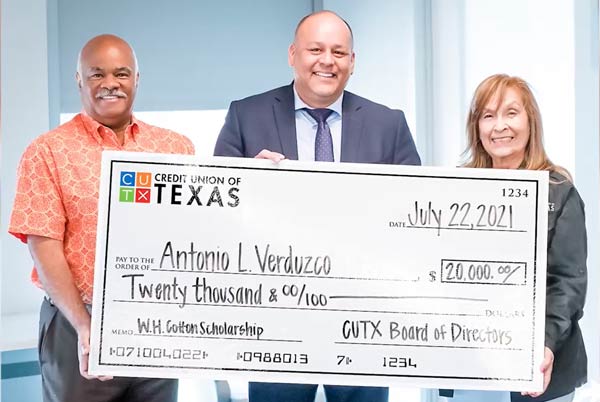 The program has awarded a total of $120,000 to DISD educators since its inception
Key Takeaways
A $20,000 scholarship was awarded to a Dallas Independent School District principal and Former DISD Graduate who has worked for the school district for over three decades

This scholarship is awarded to one DISD educator annually
---
DALLAS, August 4, 2021 – Credit Union of Texas (CUTX) has presented the $20,000 William H. Cotton Scholarship to Dallas Independent School District (DISD) elementary school principal Antonio Verduzco. Verduzco has worked for the school district for over three decades, serving in six educator and administrative positions before becoming the current principal of B.H. Macon Elementary School, where he has served since 2017. Verduzco will use the scholarship to pursue a doctoral degree in Educational Leadership at Southern Methodist University (SMU).
"Antonio stood out to the committee not only for his dedication to the school district over his 31-year career but also because as a DISD graduate himself, he truly possesses an unwavering love for the community and a belief in Dallas' public education system," said Dr. Màrelou Cisneros, CUTX board secretary and chairperson of the William H. Cotton Scholarship Selection Committee. "It is because of educators like him that students from all walks of life receive the support they need to succeed academically, socially and emotionally and become well-rounded citizens. The committee is honored to support his journey at SMU as he pursues his doctorate and furthers his breadth of influence across our community."
Verduzco started his career as a bilingual teacher at Dallas' Margaret B. Henderson Elementary School, where he worked for five years before accepting his first administrative position as assistant principal of Fred F. Florence Middle School in Dallas in 2006. In addition, he served as assistant principal at Kleberg Elementary School in Dallas and as principal at both the Julius Dorsey Elementary School and International Leadership of Texas – Arlington prior to his appointment at B.H. Macon Elementary School.
Throughout his career, Verduzco's leadership and expertise have positively impacted the work of numerous groups and organizations, including the Urban Collaborative for Educational Leadership as well as DISD's Campus Instructional Leadership Team and Language Proficiency Assessment Committee.  Prior to pursuing his doctorate at SMU, Verduzco earned his Bachelor of Arts from Texas A&M University, his Master of Bilingual Education from SMU and his Master of Education, Educational Leadership & Policy Study from the University of Texas at Arlington.
The selection committee, made up of members of the CUTX board of directors, awards this scholarship annually to one DISD educator or administrator who will pursue a post-baccalaureate degree in the field of education while continuing to serve the DISD community in an impactful way. Nearly 30 applicants from across the District apply each year for the scholarship. Past recipients include a co-founder of Solar Preparatory School for Girls, the first all-girls public elementary school in Texas, a teacher for the Talented and Gifted program at the Yvonne A. Ewell Magnet Center and a teacher with Zumwalt Middle School's Accelerating Campus Excellence Initiative (ACE).  
CUTX created the scholarship program in 2016 to acknowledge William H. Cotton's 46 years of dedication and service to DISD and CUTX. He retired as an associate superintendent for DISD and as a board officer for CUTX. Following his retirement, he continued to serve the District in many capacities and garnered numerous awards before passing away in May of 2019 at the age of 85.
"As a credit union founded by a group of teachers, we are dedicated to giving back to today's educators, especially as they have continued to act as champions for their students throughout the challenges of the COVID-19 pandemic," said Eric Pointer, President & CEO at CUTX. "Antonio is truly an educator who puts his heart and soul into creating an inclusive environment for all. He understands the passion needed to put his students' futures first and the importance of strong mentorship on these students learning and retention. CUTX looks forward to being a part of Antonio's doctoral degree pursuit and seeing the impact he continues to have on academics as a whole."
About CUTX
For almost 100 years, Credit Union of Texas has provided financial services to members throughout North Texas. Living out its vision to deliver an unexpected experience, CUTX has grown to over $1.7 billion in assets. Membership is open to anyone who lives, works or worships, or is related to a member in Dallas, Denton, Collin, Rockwall or Upshur and its surrounding counties. In 2021, CUTX was recognized with the Communities Foundation of Texas "Be in Good Company" Seal of Excellence, voted the Best Credit Union in DFW by the readers of The Dallas Morning News and named the winner of the Torch Awards for Ethics, Better Business Bureau Serving North Central Texas. For more information about CUTX, visit www.cutx.org.
About Children's Advocacy Center of Collin County
Children's Advocacy Center of Collin County is a nationally recognized nonprofit organization providing hope to children and families victimized by child abuse. Our proven approach brings experts together under one roof to ensure safety and justice for children. We are the only agency in our community offering services critical to healing, free for life.
You May Also Be Interested In