FINANCIAL ADVICE | home improvement

How Much It Costs to Build a Pool
Published February 11, 2019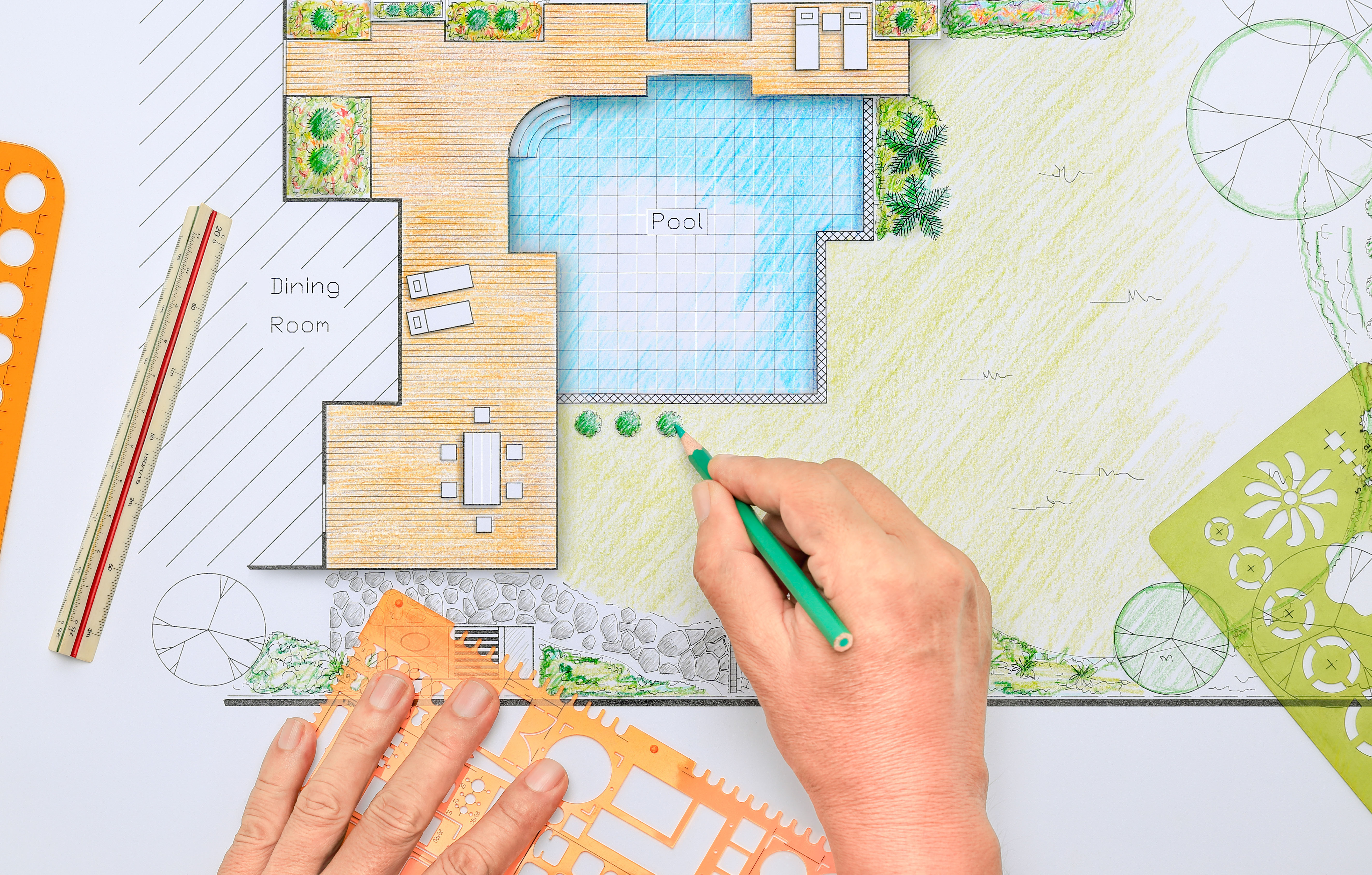 Key Takeaways
There are always additional costs to build a pool.

It's a good idea to collect a few bids from contractors before you install a swimming pool.

The cost to build, maintain and equip a backyard pool can be steep. 
---
What Are the Main Reasons to Build a Pool?
The all-time high temperature recorded in Dallas is 113°F, which occurred during the heat wave of 1980. It might not get quite that hot this summer, but there's nothing like a dip in a backyard pool to keep your family cool, and guests entertained all summer long. But aren't swimming pools expensive? Are they worth it? Let's explore the costs of installing a pool at your home.
As with any big-ticket item, the sky is the limit for how much you can spend on something like a swimming pool. However, according to ImproveNet, most homeowners in Dallas spend between $7,400 and $10,500 to install a pool. According to Fixr.com, the national average to install an average 32 ft x 16 ft in-ground pool is $22,000. Be aware that premium upgrades you add to the construction of your pool can easily increase that cost by many times.
There are several types of pools you can install at various price ranges. According to ImproveNet, here are the average costs to install a pool in the Dallas area:
Above-ground pools: between $1,000 - $6,000
In-ground fiberglass pools: $5,000 - $40,000
In-ground concrete pools: $5,000 - $78,000
There are always additional costs to build a pool. It's a good idea to make a list and to account for as many of these costs as possible before deciding whether you want to invest in a pool.
Pool installation costs
Site considerations
You probably have a feel as to whether your landscape would complicate the installation of a pool. Is your property easily accessed, or would it be difficult for excavation equipment to access your pool site? Is your land undulating, which would require a lot of excavating and a retaining wall? The answers to these types of questions impact the price of installing a pool in your yard.
Design
A simple rectangular pool costs less to construct than a complex-shaped custom pool. You may want a complete backyard oasis featuring a unique pool, spa and landscape features like a waterfall. These add to your pool's wow factor, but they also add to the cost. If you're going all out, you might consider getting a landscape designer involved in your project, which will add to the project's cost.
Pool construction
Let's deal specifically with in-ground pools. They can be made with a vinyl liner, the least expensive option, or a fiberglass liner, which can add several thousand to the cost. You may want to opt for a concrete or granite pool, which will cost even more to install but should last longer.
The area surrounding your pool will need a pool deck, which can be constructed of concrete, pavers or other materials. To estimate the cost of the deck, calculate the square footage of the deck. It's required by law to install a fence around your pool site.
Pool materials
Here is a range of pricing for pool materials in Dallas, according to ImproveNet:
Pool pumps manage your pool's filtration system, and cost between $150 and $800.
Pool heaters keep water temperatures comfortable and cost between $1,700 and $3,100. Energy-efficient pumps and heaters will save you money over the long term.
Pool accessories
Here are some average prices for pool accessories in Dallas, according to ImproveNet. There are always less expensive, or more expensive options:
Lighting extends the use of your pool into the evening. You can choose from a halogen, fiber optic or LED pool light system, and this improvement will cost about $500.
A slide keeps kids entertained for hours and will cost an average of $1,675.
A diving board in the deep end is a must, isn't it? They cost about $390.
An infinity edge, swim jets, plunge pools, and lap pools are all the rage. These add-ons and many more add to the enjoyment of your pool, but they also add to the bottom line. Are you planning to place new outdoor furniture around your pool? Maybe a chaise lounge or two, a table and chairs and an umbrella. Some planters would be nice. Some people even add an outdoor kitchen.
Labor
It's a good idea to collect a few bids from contractors before you install a swimming pool. You should also contact their references to help ensure your project will go as expected. Ask your contractor about whether they warranty their work, how long the warranty lasts, and what it covers. According to ImproveNet, the standard labor costs to install an in-ground pool generally run between $2 and $6 per square foot.
Maintenance
Pools need continual care. From chemicals or minerals to condition the water to cleaning equipment and periodic repairs, the cost of pool ownership doesn't come to an end once it's installed. If you want to protect your investment, plan to stay on top of a maintenance regimen. According to ImproveNet, here is what you can expect to spend in Dallas for ongoing maintenance:
General pool maintenance: approximately $180 per month
Pool cleaning: up to $165 per month
If you get a vinyl pool, you may have occasion to repair the liner, which will cost up to $1,900. If you have a fiberglass or concrete pool, resurfacing or re-plastering will cost up to $7 per square feet.
Are you ready to take the plunge?
The cost to build, maintain and equip a backyard pool can be steep. However, many pool owners will tell you it's worth the hours of enjoyment. A pool might also increase the value of your home. So, if you're ready, jump in — the water is fine.
If you're looking for ways to finance your new swimming pool, check out Home Equity Loans and HELOCs as great, low-rate options at Credit Union of Texas.
You May Also Be Interested In