FINANCIAL ADVICE | home improvement

How Much Does It Cost to Remodel a Kitchen?
Published February 6, 2019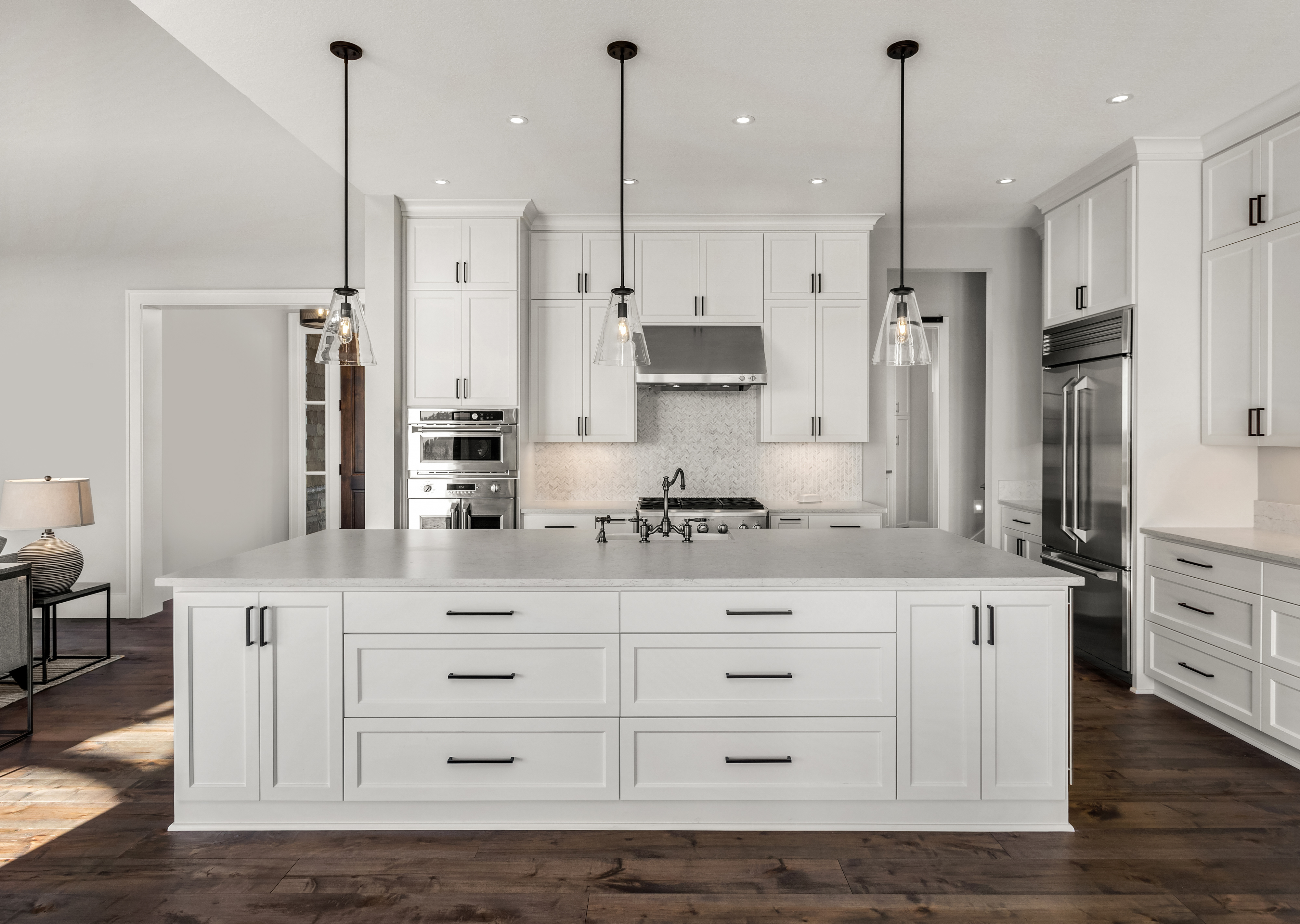 Key Takeaways
Consider what you love and hate about your current set-up. 

If you stay budget-conscious in your options, you can upgrade a lot more of the kitchen than you might think.
---
How much will it cost to remodel my kitchen? On average, according to homeadvisor.com, a kitchen remodel will run about $150 per square foot[1]. In reality, that number can vary greatly, as there are many variables to consider when taking on what's arguably the heart of the home. Are you handy? Do you have friends to help? Will you be juggling kids and other things at the same time? Do you have time to spare and a budget that's solidly in the five-figure range? Do you know what you want and have the samples to prove it?
All these questions and more are things to consider when you start thinking about putting your dreams where your stove once was. Consider what you love and hate about your current set-up. Are there functional things to address or are you just hoping for a stylistic upgrade? Take a hard look at your appliances, fixtures, the state of your cabinets and floors. If you have any parts and pieces that will need to be replaced or repaired, that may be a good place to start.
Alternatively, if you are looking to make decisions based primarily on a budget, we've got a pretty good break-down for you here.
Focus on a Facelift
While we all love to window shop for the full dream kitchen in stores or online; for most of us, it stays a dream. However, even the most budget-conscious among us can get one step closer to those aesthetic goals by applying a little creativity and elbow grease to your current kitchen.
Paint. If we've said it once, we've said it a dozen times, but bringing a fresh coat of color can make any room feel brand new. We love yellows and greens in the kitchen.

 

(A gallon of paint generally runs about $30.)
Get more out of your cabinets. Install tiered racks, pull-out shelves, roll-out trays, and install battery-powered under-cabinet lighting. You can do it all yourself and get everything you need at your local hardware store.

 

($20-100 per drawer, depending on size and material.)
Add an island. You can order kitchen islands from many online retailers, spend an hour putting it together and enjoy a few more feet of serving and prep space by dinnertime.

 

($150-900 depending on size and style.)
Put in a new sink. Especially if that old one is enamel, it stains easily and gets scratched and damaged over time, making your whole kitchen look dingy no matter how clean it really is. Installing a new sink can easily be done in an afternoon, and there are lots of great style options available!

 

($99-900 depending on style.) 
Mid-range Projects
It's easy to creep out of the few hundred dollars at the hardware store range when you're talking about a kitchen remodel. However, it's also easy to get a lot done for a few thousand dollars. It's all about choosing the right materials. If you stay budget-conscious in your options, you can upgrade a lot more of the kitchen than you might think.
Give your countertops an upgrade, which can be a fun weekend project. Measure and purchase (new laminate will keep costs low), then have a blast pulling off and trashing the old. Take your time installing and finishing, and voila!

 

($900-6,000 depending on size and material.)
Go green! Replace your faucet and appliances with environmentally-friendly versions. You'll enjoy the savings on your water bill and can pass along the upgrade to those who buy your home.

 

($180-500 depending on what you're replacing.)
Install a tile backsplash. It will require some tools, some video tutorials (if you've never done it before), as well as some time and concentration. Tiling can be very gratifying. It's definitely doable yourself and will make your kitchen look polished and trendy.

 

(There are lots of options for around $10/sq. foot.)
Refinishing cabinets is much more affordable than replacing. Depending on the shape they're in, you might even be able to do it yourself. Just be sure you've got all the tools and materials you'll need, and plenty of space to lay out cabinet doors as they dry.

 

(Hire it done for about $1,500.)
Add recessed lighting, and get rid of those fluorescents! This will require an expert to assist but will be so worth it in the end.

 

(Generally, you can get this done for about $1,000 total.)
The Big Stuff
If you've got upwards of $30,000 to put into remodeling your kitchen, there will be many choices to make! As you're starting to sketch out the details, we recommend hiring an experienced contractor. They'll help you make your dreams a reality, without sacrificing safe wiring or plumbing practices. The expert you hire will also help you make choices with re-sale in mind.
New flooring can eat up a good chunk of the budget, but will go miles in getting you the look you're going for. Especially if the current floor is in bad shape, this is a good place to invest some time and money. Snap-together vinyl or laminate can be done in a weekend with a few friends to help, but solid wood should be done by someone with a little more experience.
If you're looking to move around those major appliances, you can get really fancy and invest in custom cabinets, EnergyStar appliances, and specialized lighting since you'll be working with a contractor.
(Price ranges for these are going to vary widely based on your location, contractor and materials.)
Deciding on which parts of your kitchen are going to bite the proverbial dust can be a fun and exciting adventure. Regardless of your budget, a kitchen remodel can be within reach! Take an honest assessment of your goals, favorites and pet peeves, and plan wisely. Hire experts where necessary, but otherwise, get into a DIY mindset and have a good time!
You May Also Be Interested In