FINANCIAL ADVICE | home improvement

How Much Does It Cost to Remodel a Bathroom?
Published February 6, 2019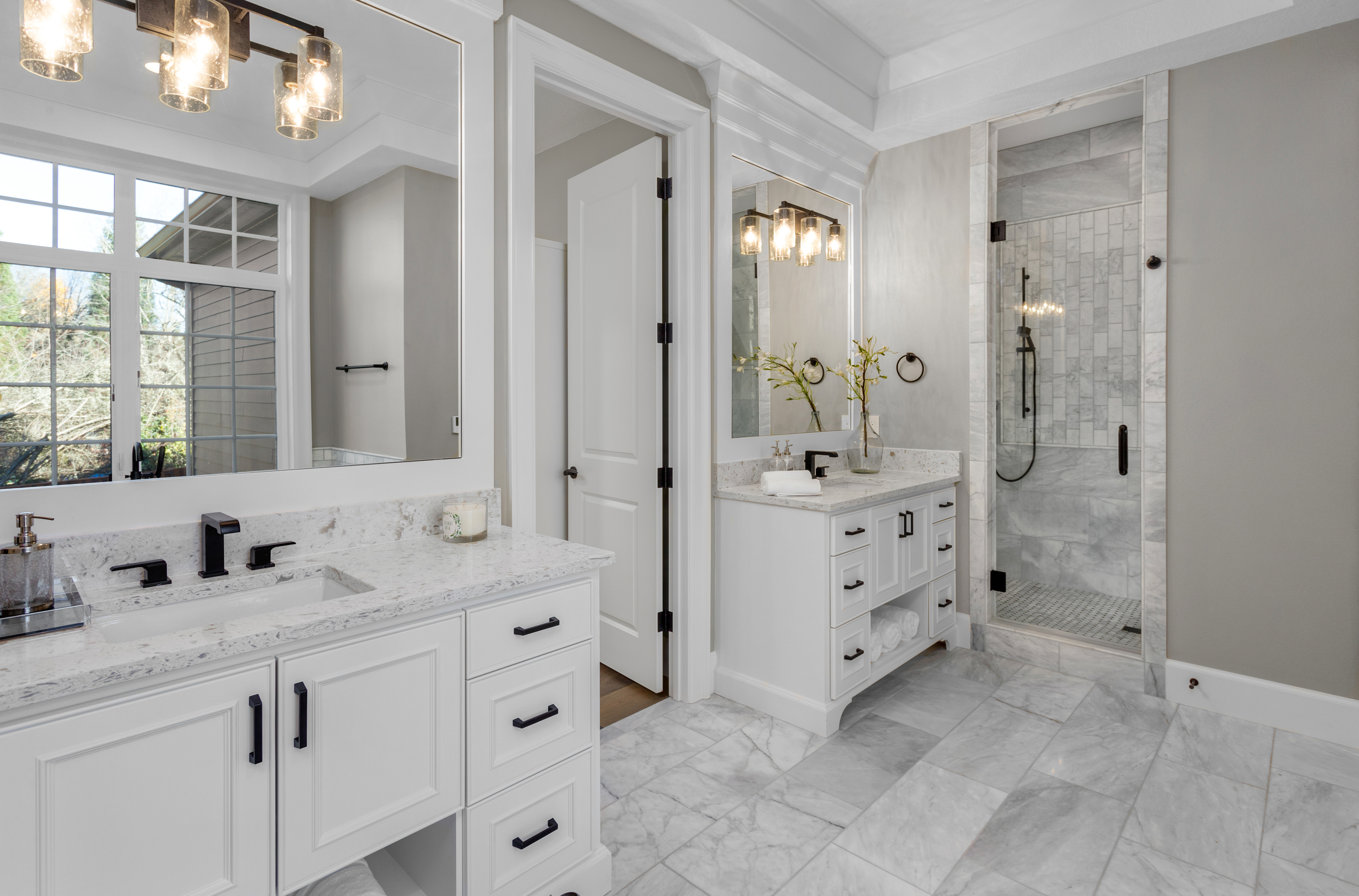 Key Takeaways
 Give existing fixtures a facelift.

Give your countertops an upgrade.

 An experienced contractor will also ensure that your home is up to code for your city or county.
---
Trying to figure out how much your bathroom remodeling dreams might cost you? Surely there must be a ballpark figure for this kind of popular home improvement project. The trouble with supplying a flat figure to a bathroom remodel is that so much depends on the condition of the room originally. If you're in a home built within the last 20 years, but you're ready to spruce up those contractor-grade fixtures and add your own finishing touches, that's a whole different ballgame than the folks living in a turn-of-the-century little treasure with a bathroom that hardly has space to turn around.
So, while the true costs of a bathroom remodel (spoiler!) has a pretty broad range, we've gone ahead and priced out the different components that most people take on. We'll leave the adding up to you.
Focus on a Facelift
When working in the lower budget range on beautifying your bathroom, think about ways to give existing fixtures a facelift, saving thousands on replacement costs.[1] For example:

Frame your vanity mirror. For most homes built in the last few decades, the bathroom mirror is just a huge pane of glass with no style points. Make it your own in an evening.

 

($10-40 depending on the size of your mirror and the trim or framing you choose.)
Replace the seat and lid of your toilet, and it'll feel brand new!

 

($20-$40 DIY)
Scout flea markets for a vintage dresser and convert it to a one-of-a-kind sink vanity.

 

($50-300 depending on plumbing needs.)
Need to create the illusion of more space? Try open shelves instead of another chest of drawers. Shelves are the perfect place to show off those fancy soaps you've been hoarding, and the open concept will make your bathroom feel bigger.

 

($30-200 depending on style and size.)
Upgrade the contractor-grade light fixtures. Shop sales and you can score high-style lighting options for low-budget prices. Swapping out fixtures is an easy DIY project that has great returns.

 

($50-300 depending on style.)
Paint. If we've said it once, we've said it a dozen times, but bringing a fresh coat of color even to your small spaces can really turn it around.

 

(A gallon of paint generally runs about $30.)
Mid-range Projects
If you've got more than a couple of hundred dollars to spend on your bathroom remodel but aren't interested in living through a full demolition job, pile on one or two of these mid-range budget choices. In addition to some facelift projects, you'll be amazed at what you can accomplish.
Give your countertops an upgrade, which can be a really fun weekend project. Measure and purchase the new stuff, then have a blast pulling off and trashing the old. Take your time installing and finishing, and voila!

 

($200-900 depending on size and material.)
Replace that grimy bathtub. Depending on the layout of your room, you could go with an extravagant free-standing tub and let it become a focal point, or just do an upgraded version of what you've already got. Either way, you'll enjoy it, and when it comes time to sell, it'll set your home apart from the competition.

 

($300-2,500 depending on style.)
Bring in new walls. White subway tile never goes out of style, but it looks so much better than whatever they installed when they built your house 20 years ago. Bonus: it matches any décor style from industrial to elegant.

 

(This whole project can average about $300/square foot if you hire it done, or half that if you do it yourself.)
The Big Stuff
If you've been planning to tackle a bathroom remodel for a while and have a pretty sizable budget set aside for it, congrats! As you're starting to sketch out the details, we recommend hiring an experienced contractor. They'll help you make your dreams a reality, without sacrificing safe wiring or plumbing practices. An experienced contractor will also ensure that your home is up to code for your city or county.
New flooring will totally change the feel of your room. Most bathrooms will already have tile floor and removing that old stuff will cost a pretty penny—but then you'll be able to choose any material or style you like.
Rearranging the plumbing can skyrocket the cost of your bathroom remodel. However, if you're working with a contractor and have the budget, go crazy!
Skylights are wonderful in bathrooms. You can't beat the natural light, and there are some new options like tube lights that are actually quite budget-friendly. However, the installation will require an expert!
(Price ranges for these are going to vary widely based on your location, contractor and materials.)
At the end of the day, the real cost of a bathroom remodel is dependent on what you've got to begin with, and what your end goals are. You can do a lot for a little or pick one big-ticket item and go for it. No matter what you're hoping to end up with, you can save a lot of money by carefully evaluating which parts of the bathroom need upgrading and which parts can stay as-is.
You May Also Be Interested In