FINANCIAL ADVICE | money management

Having a Baby? You Need This Checklist
Published February 8, 2019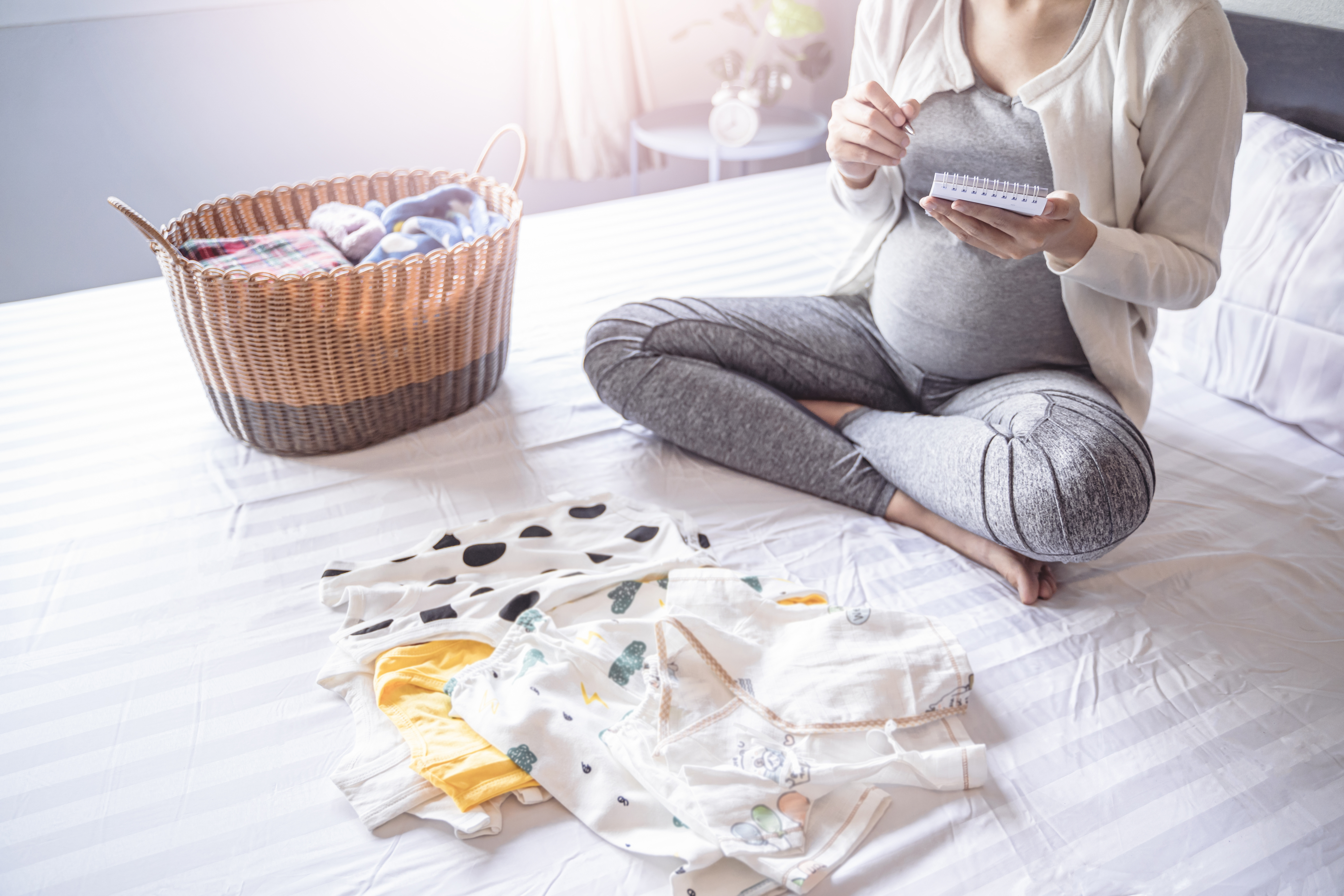 Key Takeaways
Soon, there will be a tiny human who relies on you to stay alive.

What does self-care mean to you? 

If you're taking maternity leave, but plan to go back to work afterwards, get prepared for how that looks. 
---
Before we introduce our thoughtfully curated list of ways that we recommend you get your proverbial stuff together before you meet your baby, we'd just like to offer this disclaimer: there will always be things that catch you off guard after the little one arrives. Why? Well here's an oft-overlooked fact: you're adding a whole new person to your family. I know, they look like a potato when they're first born.
Despite this, they're a whole individual with whims, needs, preferences and personality quirks just like your partner, your mom, and even yourself. There's a lot that no one can prepare you for because it takes time to get to know your baby. If the idea of not being totally in control freaks you out, read on. You can at least check off the things on this list, thus giving yourself more time to be flexible and bond with baby.
Take a babymoon
Warning: don't mess up your budget for this! The purpose of a babymoon is to get away with your partner and log some quality time doing something fun and just for adults. Even a stay-cation at a hotel in your city can be a blast. You'll see everything in a new light and get to try out the tourist-y things you don't ordinarily do.
Veg out!
Soon, there will be a tiny human who relies on you to stay alive. Take some time now to be truly lazy. Sleep as late as you want. Stay in your pjs all day and order delivery. Nap. Binge watch all the shows and movies you can handle. Ahhh.
Have a girl's night
Similar to the babymoon, schedule an evening out with your best friends. It may be the last time you can hang out for hours without having to consider a babysitter or when you'll need to go home to feed the baby.
Write a letter to your baby
You may think you'll remember every little detail of your pregnancy and be able to share it when your kiddo asks about it in a few years, but heartbreaking hint: you won't. Take an hour or so now to write a letter about the foods you've been craving, dreams you've had, and hopes for the future of the person you know so intimately.
Pamper yourself
What does self-care mean to you? A massage and mani/pedi? A high-style haircut? Whatever it is, get it in. Most moms don't feel very glamorous for weeks or months after the baby arrives, so soak it up while you've got the time to dedicate to making yourself shine.
Have the talk
If you and your partner took birth classes, you've probably already had many discussions about your plans, worries, and made decisions on important things like circumcision. Whoever led your class probably walked you through the medical options that are standard (but still optional!) for you and your baby during labor, delivery, and immediately afterwards. If not, schedule a tour of your birth center or hospital and be prepared with questions (this link will get you started). While you're there, don't forget to pre-register!
Get prepared at work
If you're taking maternity leave, but plan to go back to work afterwards, get prepared for how that looks. Talk to your boss. Talk to other moms in your office. Read the company handbook. Think through non-traditional options like working from home, coming back to work part-time, or initiating a job-share. No matter what, turn your out of office on, and resist the urge to check it while you're away. Your only job is to bond with that baby! Work preparation goes for the non-birthing partner as well, as many employers offer leave options for both parents!
Get a jump-start on correspondence
Pick birth announcements if you plan to send them and pre-address envelopes. Stock up on thank you notes. They're easy to write while you snuggle in with your newborn if you've got them on hand.
Do a deep clean
Better yet, hire someone to get it done. Get carpets washed, baseboards scrubbed, fan blades dusted, and blinds wiped down. Do all the baby's laundry ahead of time (we recommend scent-free detergent for sensitive newborn skin) and be sure any hand-me-down items are sanitized.
Interview your baby professionals
Don't just select pediatricians, daycare options, nannies, etc. based on Yelp reviews. All these folks are used to expectant parents coming in for interviews and tours ahead of time, so don't be shy!
Stock up and plan ahead
Freezer-to-crock-pot-meals are about to be your best friend. Prep some gallon bags with all the fixings then toss them in the freezer so you'll have healthy, home-made meals ready to go in the slow cooker. Stocking up the rest of the house is a good idea, too. You'll have enough to think about, without having to remember to add toothpaste, toilet paper, or pasta to your grocery list. Pro tip: Go ahead and get a pack or two of extra-large cotton undies, maxi-pads or period panties. You'll thank us later.
Breast supplies
Unless you're choosing not to breastfeed (or you're adopting), there are a lot of supplies just for your breasts. Most insurances will cover a pump, but you'll also want nursing bras, milk freezer bags, milk catcher cups, gel pads, and lanolin. If you're going to breastfeed or pump, you'll also want to have clothes on hand that make access easy. Nursing camisoles are perfect for any season—wear them on their own in summer, or under a flowy cardigan in the cooler months. Leggings, flowy sundresses, button-down shirts, as well as other specially designed nursing tops are essential, and worth the investment. Don't forget that you may also be able to get these breastfeeding-friendly clothing at a resale shop, saving you money.
Prep the car
In addition to installing the car seat, take the time now to get a tune up, oil change, rotate the tires, etc. Car maintenance is always a pain. It's a huge headache with a newborn.
Stock the nursery
Register for, or purchase extra changing table pads, extra mattress pads, sheets, swaddling and sleep sacks. Tiny baby pee, poop, and spit-up come out in surprising volumes. Get plenty of wipes and diapers for those first few weeks. Do a dry run to be sure you've got everything within reach. If the baby is going to sleep with you those first few months, go ahead and set up that little space, too.
Schedule visits in advance
Neighbors, in-laws, friends, and co-workers have probably already started talking about how they can't wait to meet your bundle. Here's your chance to be pro-active. Start telling people now when they can come. Maybe your mom and partner are the only ones you'll want around for 2-3 weeks. Then your close friends and in-laws after that. When you invite people over, give each person a task—maybe that's running a vacuum, doing dishes or bringing a meal. Don't be shy! They're coming to see the baby, and to help. Think of the small task as the price of admission.
Start a good habit
Even though your list of to-dos may feel like it's growing even faster than your belly, allow us to add one thing to it, just for you. Start an easy at-home exercise routine now. If you make it a habit to stretch for 5 minutes before bed every night, or to take a 10-minute walk outside after dinner, you're more likely to continue it with a newborn. Trust us, taking just a short break from the daily stressors to focus inward and move your body will pay dividends post-partum.
You May Also Be Interested In